The Redd campus is designed to drive a new food economy.
The Redd works by both building out essential infrastructure for food system entrepreneurs to grow their business, and by offering a creative space for critical conversations, collaboration and convening. The campus features the latest in green building and collaborative design.
Designed with nature as our guide, the Redd campus follows the path laid by our redevelopment of the Natural Capital Center, Ecotrust's landmark building in Portland's Pearl District. Permeable and flexible spaces, natural lighting, efficient fixtures, low VOC paint, FSC-certified wood and open-air spaces for gathering and building community are all key design elements of the campus.
In addition, one-third of the energy used in Redd West comes from the state-of-the-art solar roof that was supported by funding from PGE's Renewable Development Fund program customers in 2017. This luminous support has been extended to Redd East, which will open in January 2019.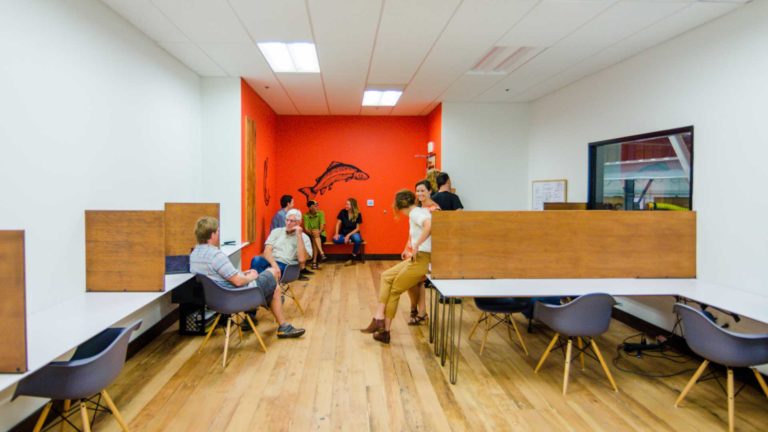 Flexible working spaces and amenities throughout the campus are designed with collaboration in mind—creative spaces for co-working, casual meet-ups, and planned events that will spark new ideas and partnerships to grow the social groundswell around the good food movement.
Open since 2017, the Redd already has become known as the place where Northwest farmers, ranchers, fishermen, entrepreneurs, advocates, policy-makers, and eaters are working together to create a new food economy